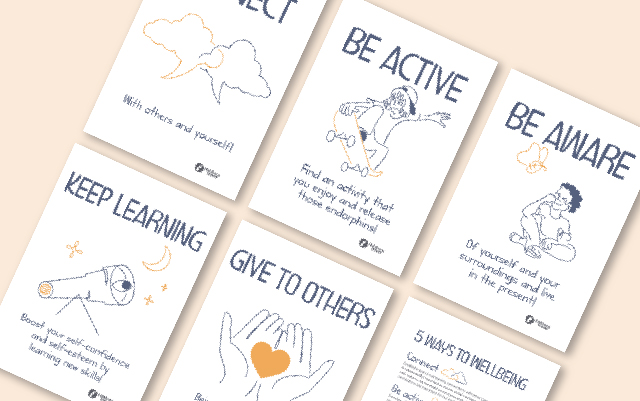 Download these posters and display them in your classroom to help your students take care of their wellbeing.
Why not use these to run focused discussions around wellbeing during your tutor meetings?
And don't forget to think about your own wellbeing at the same time!
What Are the 5 Ways to Wellbeing?
Connect
Establishing and maintaining connections with other people is fundamentally important as we are social creatures. But try connecting with nature and the world around you, and with yourself too. All these connections are important for our mental health and wellbeing.
Be active
Exercise offers incredible benefits for our mental wellbeing. It releases endorphins, which make us feel happy and more positive. It also increases our self-confidence and gives us more energy.
Be aware
Live in the present, be aware of the world around you, and take notice of how you feel both in your mind and body. This is known as mindfulness and taking time to practice this helps us learn to stop and enjoy each moment of our lives, rather than rushing through and being overwhelmed by stress and anxiety.
Keep learning
Keep your mind active by learning new skills. This increases self-esteem and can also be a great way to connect with others. And who knows, you may even discover a hidden talent!
Give to others
Being kind and giving to others improves our own self-worth. It may be a selfless act, but actually, it can have a great impact on your own wellbeing.
Like these posters? You may also like our Growth Mindset posters!