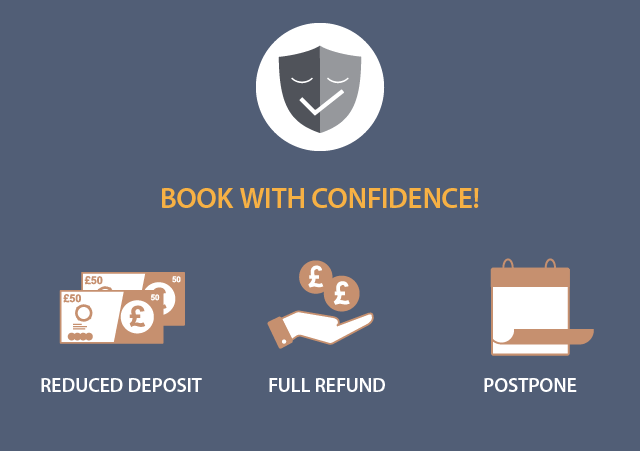 To help us work out exactly what we needed to do as your tour operator to help you to book and travel in confidence, we reached out to you, our customers.
You told us that to book with confidence, you needed greater flexibility to cancel or postpone your trip. And you also told us that to travel with confidence, you needed to know your group's health and safety would be prioritised.
Our Covid guarantee addresses both these concerns.
Book With Confidence
We've worked with our suppliers to make our terms and conditions more flexible, so it's now easier for you to cancel or postpone your trip should the situation change.
Secure your trip with a reduced deposit
To secure your trip, all you need to do is pay a reduced deposit:
Coach tours £50 per person
Air tours £100 per person*
Receive a full refund
Receive a 100% refund if you need to cancel your trip due to restrictions within 30 days of departure.**
Postpone to a later date
And the option to postpone will remain open to you until at least 30 days prior to your departure**.
Send me a tailor-made quote >>
* Please note that air tours may require a higher deposit, dependent on the airline's requirements.
**Terms and conditions apply. Please see below for details.
Terms and conditions
100% refund for cancellations made within 30 days of departure applies in the following circumstances:

FCDO advise against travel to your destination, or a country you have to travel through to reach your destination
DfE advises against overnight residentials/overseas school trips to your destination
The country you are visiting, or a country you need to travel through to reach your destination, is on the amber or red travel list
Quarantine is required upon arriving in your destination
Local or national lockdown restrictions preventing your groups' departure
Local restrictions in the destination impacting the primary purpose of your tour, e.g. if a Christmas market is cancelled due to local restrictions and the primary purpose of your trip was to visit this market

Cancellations made more than 30 days prior to departure will be subject to our normal terms and conditions
100% refund only applies when the deposit payment schedule has been adhered to
100% refund only applies to group cancellation, standard terms and conditions apply to individual passengers dropping out
Please note that air tours may require a higher deposit, dependent on the airline's requirements
If you opt to postpone, we will keep the pricing the same where possible

Where there are additional costs incurred, such as booking new flights, we will discuss this with you before amending your booking

Only applies to bookings made between 01/01/2021- 23/07/2021
Applies to all new bookings due to travel from 17th May 2021 onwards
Travel With Confidence
We've formed a dedicated Health & Safety Committee, led by our Head of Health & Safety, Silvia Vintem.
This committee has been working closely with hotels, visits, restaurants and other suppliers to ensure that every precaution is taken to ensure that your group is safe while away on a school trip with Halsbury.
What are our suppliers doing?
Hotels and Accommodation Providers
The School Travel Forum (STF) have provided new measures/guidance for accommodation providers to follow with a focus on infection surveillance.
As you may already be aware, we are an Assured Member of the STF. So, we have required all of our accommodation providers to complete a checklist set out by the STF to ensure that all these measures are in place and being adhered to.
Our accommodation centres will provide information relating to any procedures they have put in place to prevent the spread of Covid-19, which could include:
Social distancing
Meticulous personal hygiene
Effective and regular sanitising of hand touch points
Contactless payments
Guest accommodation cleaned with chemicals proven to be effective against Covid-19 and rooms disinfected and sealed after cleaning and before next use
Use of face masks within public areas, use of disposable gloves
Temperature checks
Coach Providers
Our coach suppliers are following new cleaning protocols and establishing new guidelines to minimise risk such as loading and unloading procedures.
What are we doing?
Adjusted Itineraries
We'll ensure your itinerary is adapted if any new regulations affect visit and activity providers, such as; maximum group sizes, social distancing measures and wearing of face coverings etc.
Meals
We're working with restaurants to ensure that local Covid-19 health & safety procedures and guidelines are being followed and mealtimes are adjusted to quieter times of day.
In-Country/Destination Guidance
We'll provide you with up-to-date information on Covid-19 regulations in the country/destination prior to departure.
Still have questions?
If you have any questions about our Covid guarantee, or need any further information, please don't hesitate to contact us, as we'll be very pleased to help.
Ready to start planning?